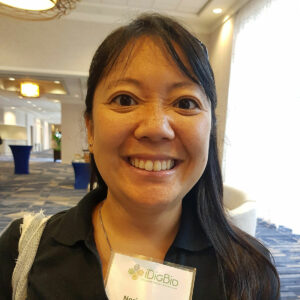 Norine Yeung

Adjunct Faculty, Center for Conservation Research and Training (PBRC)
Contact Info
nyeung@hawaii.edu
(808) 956-0956 (ph)
(808) 956-2647(fax)
3050 Maile Way, Gilmore 408
Honolulu, HI 96822
Education
University of Hawai`i at Manoa, Ph.D. (Zoology with Ecology, Evolution & Conservation Biology specialization)
University of Hawai`i at Manoa, M.S. (Zoology with Ecology, Evolution & Conservation Biology specialization)
Curriculum Vitae
Research Interests
In the footsteps of great minds like Thomas H. Huxley, I am interested in trying "to learn something about everything and everything about something." My current research interests are focused on understanding the evolutionary mechanisms and processes that generate, maintain, and in some cases, reduce biodiversity. I received my PhD from the University of Hawaii, working on the systematics, population genetics, ecology and conservation of seabirds. I am currently part of a National Science Foundation Biodiversity grant (PI Hayes) whose goals are to comprehensively identify, catalog and reconstruct the phylogenetic relationships of the native land snails of Hawaii. These data will allow for the development of more efficient and comprehensive management policies for this rapidly vanishing fauna.
Teaching is also central to my research and career goals. As an educator of science, policy and management, I am keenly interested in integrating research and education in novel approaches. Doing so enables me to bridge the gap between science and public outreach through the development of environmental education curricula, and to better focus on and efficiently serve contemporary conservation issues. I am currently using Hawaii's native biota (specifically Hawaii's native birds and land snails) for science education to improve students' understanding of the scientific process through the development of evolutionary theories.
Selected Publications
Durkan, T.H., Yeung, N.W., Meyer, W.M., III, Hayes, K.A. & Cowie, R.H. 2013.  Evaluating the efficacy of land snail survey techniques in Hawaii: implications for conservation throughout the Pacific. Biodiversity and Conservation 22: 3223-3232.
Curry, P.A. & Yeung, N.W. 2013.  Predation on endemic Hawaiian land snails by the invasive snail Oxychilus alliarius. Biodiversity and Conservation 22: 3165-3169.
Hayes, KA, NW Yeung, JR Kim and RH Cowie. 2012. New records of alien Gastropoda in the Hawaiian Islands: 1996-2010. Bishop Museum Occasional Papers 112:21-28.
Christensen, CC, NW Yeung and K.A. Hayes. 2012. First records of Paralaoma servilis (Shuttleworth, 1852) (Gastropoda: Pulmonata: Punctidae) in the Hawaiian Islands. Bishop Museum Occasional Papers 112:3-7.
Meyer, WM, III and NW Yeung. 2011. Trophic relationships among terrestrial molluscs in a Hawaiian rain forest: analysis of carbon and nitrogen isotopes. Journal of Tropical Ecology 27(4): 441-445.
Yeung, NW, DB Carlon, and S Conant. 2009. Testing subspecies hypothesis with molecular markers and morphometrics in the Pacific White Tern complex. Biological Journal of the Linnean Society 98: 586-595.
VanderWerf, EA, LC Young, NW Yeung, and DB Carlon. 2009. Stepping stone speciation in Hawaii's flycatchers: Molecular divergence supports new island endemics within the 'Elepaio. Conservation Genetics, DOI 10.1007/s10592-009-9958-1.