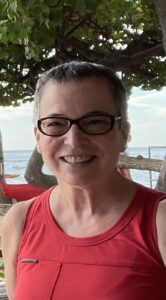 Elaine Mirkin
Assistant Specialist, PBRC
Contact Info
emirkin@hawaii.edu
Education
University of Southern California, M.S., Biology (Advisor: Edward Ruby)
San Francisco State University, B.S., Molecular and Cell Biology, Chemistry Minor
Research Interests
After two decades working with professional science education programs, I currently utilize my experience and skill sets to collaborate on career and professional development activities in PBRC and elsewhere on the University of Hawai'i, Manoa campus. The focus is on the following activities:
Work with PBRC, SOEST and others to implement and assess courses, seminars, and workshops to provide scientific and technical training.
Work with PBRC's COBRE career and professional development teams and related activities across SOEST and UH to implement short courses and/or workshops on communication skills, grantsmanship, identifying funding opportunities, budgeting, and laboratory management.
Work with graduate program faculty to coordinate the implementation of interdisciplinary programs across scientific disciplines.
Department and Laboratory Webpages