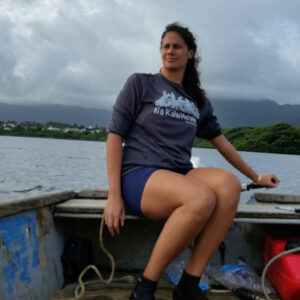 Kiana Frank
Assistant Professor, PBRC
Contact Info
klfrank@hawaii.edu
Office: (808) 539-7300
Bekesy 252
1993 East-West Road
Honolulu, HI  96822
Kewalo Marine Lab 312
Education
Harvard University, Ph.D, Molecular Cell Biology, 2013 (advisor: Peter Girguis)
Harvard University, M.A, Molecular Cell Biology, 2010 (advisor: Peter Girguis)
University of Rochester, B.S, Molecular Genetics, 2008
Curriculum Vitae
Research Interests
Frankʻs fundamental research goals are to identify environmental drivers of microbial dynamics and to characterize the impact of microorganisms on biogeochemical cycling in mineral-hosted ecosystems from mountain ridges to mid-ocean ridges. Frank focuses on understanding the specific biogeochemical redox reactions that occur in these ecosystems, the kinetics of these processes, the factor(s) most likely governing activity at in situ conditions, the taxonomy and physiology of the organisms responsible, and the extent to which they influence the ecosystem as a whole. Her work is focused on environmentally tractable ecosystems in Hawai'i (e.g. coastal estuaries – fishponds, terrestrial agricultural systems – taro patches and dryland cropping systems, and groundwater aquifers). Understanding the structure and impact of microbes in native ecosystems will help to develop a valuable framework to evaluate overall ecosystem health and inform current monitoring, restoration, cultivation, and management of Hawaiian ahupuaʻa (watershed) resources. The direction and scope of work is also driven by the input and needs of 'āina-based (land-based) community organizations and stakeholders. This research provides a unique vehicle for bridging the fields of physical and social science, with culture.
Selected Publications
Frank, K.L., Rogers, K.L., Rogers, D.R., Johnston, D.T., & Girguis, P.R. (2015). Key factors influencing rates of heterotrophic sulfate reduction in hydrothermal massive sulfide deposits. Frontiers in microbiology, 6.
Frank, K.L., Rogers, D. R., Olins, H. C., Vidoudez, C., & Girguis, P. R. (2013). Characterizing the distribution and rates of microbial sulfate reduction at Middle Valley hydrothermal vents. The ISME journal, 7, 1391–1401.
Olins, H. C., Rogers, D. R., Frank, K. L., Vidoudez, C., & Girguis, P. R. (2013). Assessing the influence of physical, geochemical and biological factors on anaerobic microbial primary productivity within hydrothermal vent chimneys. Geobiology, 11(3), 279-293.